WestWon's Second Award of 2018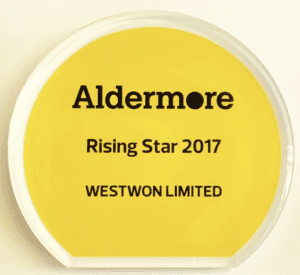 We are delighted to have come back from our Easter weekend to see we have been awarded with the Rising Star award by Reading based lender Aldermore Bank. What a way to start Q2! The Rising Star is awarded to brokers who have increased their lease volume with Aldermore by 50% in 2017 compared to 2016.
On winning the award, WestWon CEO Jeremy Hall states "Aldermore are a very important lender for us and we are pleased to have been recognised and awarded with the Rising Star award. The award is great recognition for the hard work we've invested into 2017 and our focus is on winning the award again for our performance in 2018. With 3 months gone in 2018, we've already placed more paid out business with Aldermore than in the whole of 2016!"
WestWon Operations Manager Carol McNamara added "We find Aldermore a delight to work with and their efficient and helpful customer service is second to none. Our account manager Neil has always been outstanding and always puts the extra effort in to help us facilitate agreements."
This is WestWon's second award in as many months, having been awarded the Feefo Gold Trusted Service Award for 2018!
WestWon facilitates lease agreements for a range of assets, from IT equipment to Scaffolding. Further details can be found on our Assets We Finance page. For more information on how we can help you or your customers with asset finance and leasing options, please call a member of the team on 01494 611 456.