As you may already know, in the latter part of 2021 we teamed up with Ecologi, and now we have already been on our first of many tree planting trips! Ecologi are a company dedicated to tackling our current climate crisis. They do this by arranging the planting of an abundance of trees across the world, in an effort to offset the planet's surging carbon levels. So, through them, we made ourselves a climate positive company. Whilst also putting a scheme in place where we will plant trees through them for each month of a finance agreement made through us.  
Protect Earth
So, we thought it would only make sense to offer some helping hands towards this vital cause. Hence, last Thursday, our marketing department took a trip to one of Ecologi's many tree planting partners- Protect Earth. Protect Earth have several planting locations across England & Wales. On Thursday we visited their reforestation location in Hawling, Cheltenham. Their objective is to plant trees across the UK in efforts to remove carbon from our atmosphere, reduce flood risk and by doing all of this they will inevitably enhance our air quality. 
They were founded in 2020, an eye-opening year for us all, especially with regards to our climate crisis. They are a transparent registered charity and every penny donated to them goes towards the restoration of our planet. Protect Earth are solely UK based at present; however, they have ambitions to grow their charity internationally. 
What did we do?
So, our marketing team took it upon themselves to volunteer to muck in and actively help plant these trees themselves.  So, with their wellies on, and shovels to hand,  amongst larger group of  13 other volunteers, they planted 500 bare root saplings throughout the day! And these mere twig looking things will eventually flourish into abundant leafy beauties.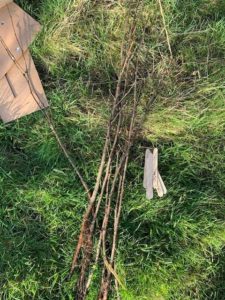 Tree planting process
With shovels in hand, our first job was to dig a deep hole. It had to be deep enough for the roots to be placed underground and covered with enough soil.
Next was to heel the soil around it into the ground so that the plant couldn't be ripped up by animals.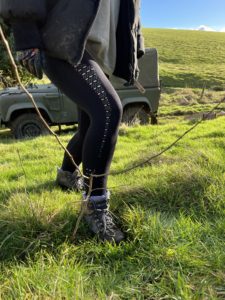 Then we had to use a mallet to place a stake into the ground next to the plant in order for it to grow straight, and again keep off predators.
Then we placed a guard over the top of the stake, which was secured by either zip ties or staples.
We then placed a small stick into the ground with the name of the tree. This is arguably the most important step as it allows Protect Earth to show to Ecologi the trees that they have planted.
Last but not least, we went round every tree once more and did some mulching. This is a layer of material placed over the soil. This would allow the tree to have the best chance of surviving.

 
We are extremely excited to see how this scheme will benefit the environment. As of currently we have managed to plant 730 trees and reduce our carbon emissions by 52.98 tonnes. This will continue to rise in the future. With a goal to plant 10,000 trees in the next 5 years, we hope that our contribution makes a difference to the world we live in. If you would like the visit Ecologi's website and see all the amazing work they do, then click here. Alternatively, you can visit our virtual woodland, or our WestWon Woodland page, which will give you more insight into what the scheme entails. 
Contact Us
If you would like any information on anything above, then please call us on 01494 611 456. We will be happy to provide any information on our green scheme (or tree planting trip). You can alternatively email us on hello@westwon.co.uk.  
https://westwon.co.uk/wp-content/uploads/2022/01/Picture2-1-scaled.jpg
806
1500
Millie Newton
https://westwon.co.uk/wp-content/uploads/2016/06/WestWon-Colour-300x94.png
Millie Newton
2022-01-31 09:00:35
2022-02-01 16:08:15
Our tree planting trip!